Reading Time:
3
minutes
From RFPs to payments, emerging technology has virtually transformed the full event planning cycle for both planners and hoteliers. Event planning thought leaders are looking beyond hotel airport proximity and square footage to how hotels can wow their clients and simplify their event experience. How can your hotel keep up with growing trends that will win more meeting and event bookings?
1.Embrace Instant Booking to be Most Accessible to Planners
For smaller events, like business off-site meetings and single-day events, instant booking has seen an 11% growth rate in 2019 according to a recent Meetingsbooker.com report. Instant booking, or the ability to book meeting space online, is becoming a more desirable option for corporate meeting planners who appreciate the ease of booking and bundling meeting amenities.
This online shift has been especially beneficial for boutique meeting venues and shared working spaces who were the first to pivot to instant bookings. Hotels who have been slow to adopt online meeting bookings may notice a drop in one-day events and the revenue they generate as online bookings increase.
The hotel takeaway?
As a hotelier, you'll still rely on the RFP format for large-scale meeting and event bookings but look to online channels to supplement your meeting space with smaller, corporate-driven events.
2.Use Technology to Personalize the Attendee Experience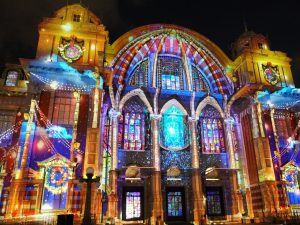 According to Cvent, "personalization needs to be at the heart of how you communicate, negotiate, and create a meeting." As planners start to branch out of the ordinary event experience to better connect with attendees growing expectations, they'll be looking to hotels to provide the technology necessary to make their event a success.
Stay up-to-date with the latest in event personalization, like projection mapping or eco-friendly meeting options. Giving event planners choice when it comes to their event package has become standard. For large-scale events, make sure you're empowering your meeting planners with the options and personalization they need to impress guests and you'll see planners coming back to, and recommending, your venue. Personalization also leaves a guest impression that can transform your meeting and event event bookings into future transient bookings as guests remember the venues that impress.
The hotel takeaway?
Personalization is at the core of event planner and attendee satisfaction. Find the personalization factors that will bring you the most repeat business from your events.
3.Upgrade Group Payment Processes to Increase Revenue and Win More Meeting and Event Bookings
Payment has been one of the most critically overlooked aspects of meeting and event bookings. With so much of the event process moving to automation, it's surprising that such an important aspect of event planner satisfaction had not been addressed until now. GroupPay from Onyx CenterSource is the industry's first group payment solution, and its tackling several of the key issues faced during the post-contract aspects of event planning between hoteliers and agencies.
"GroupPay was designed to help hotels and travel agencies work smarter together to reconcile events quickly and with as little manual process as possible," says Dee Thomas, Director of Product Management, Emerging Products at Onyx CenterSource. "Automating the group payment process helps both sides of an event resolve disputes and discrepancies around commission payments in an efficient and transparent manner. When both parties have access to the same information, everyone has the insight they need to agree and finalize compensation faster and more accurately."
In fact, a 2017 Onyx working group survey discovered that more than 78% of meeting and event planners said that receiving payments quicker is very important or crucial to their business. Products like GroupPay, that are designed to facilitate faster payment with less disputes, resolve a long-standing issue that agents have brought to light regarding event planning. Hotels that adopt new solutions to optimize their payment processes will earn an agencies trust, and by extension, their return business.
The hotel takeaway?
Resolving payment accurately and on time is important to agencies that book meetings and events. Putting the right payment solution in place to support their goals will win more return business.
Where the focus should be
Whatever technology or distribution channels you choose, make sure that agency partnership is at the heart of your group business plan. Agencies notice the helpful details, and they reward them accordingly.