DALLAS (Oct. 10, 2016) – Onyx Payments, the global leader in hotel commission payments and recovery services, today announced it is relaunching under a new name, Onyx CenterSource, to unify its brands and better reflect its breadth of services to the hospitality and travel markets.
With the relaunch, Onyx CenterSource officially retires the names Onyx Payments as well as Net Trans Services and Worldwide Payment Systems, companies it acquired in recent years.
"While it is time to retire these brands and move forward under Onyx CenterSource, our customers will continue to benefit from the people, products and services associated with those groundbreaking  platforms," said Onyx CenterSource CEO Mark Dubrow.
"We've transformed over the last few years, first being spun off from Pegasus Solutions in 2013, winning significant new clients as Onyx Payments and more recently acquiring two companies to greatly expand our market coverage to new and existing customers around the globe," he said."In recognition of this evolution and based on feedback from our customers, we decided it was time to better reflect our market position with a brand name that conveys our position as a center point within our industry – a name that will also take us into the future as we continue to grow."
Dubrow said the reason behind the rebranding is twofold: "First, as we've evolved from primarily issuing commission payments on behalf of hotels to also serving the commission-recovery needs of travel agencies, the descriptor 'payments' was no longer fully representative of our suite of offerings.
"We now serve both agents and hotels to create what we think of as a virtuous circle, improving the relationship between hotels and agents and helping to make hotels more commission-friendly, which in turn encourages agents to book those properties more often – a true win-win for the hospitality ecosystem. This moves us closer to our vision of providing friction-free commerce, improving our customers' business performance and profitability."
Additionally, Dubrow said, Onyx CenterSource is developing new services that complement its core commission payments capabilities but are broader in scope. For example, the company recently introduced InvoicePro for travel agencies, which provides a comprehensive invoicing solution, including the application of valued-added tax, or VAT.
The company also offers PayRoute, which can facilitate the distribution of payments from online travel agencies, brand.com websites to individual hotels and any affiliate payments as a cost-effective alternative to virtual credit cards, he said.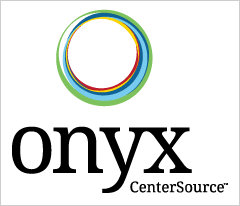 As Onyx Payments, we were much more than a payments company, providing valuable business intelligence along with commission payment processing, consolidation, and recovery services. Our name is evolving to better represent the services we provide. We look forward to continuing to be a valuable partner as Onyx CenterSource.
About Onyx CenterSource
Onyx CenterSource is the world's leading provider of commission payment processing and recovery solutions for hotels and travel agencies. The company strives to build long-lasting relationships with its partners and is passionate about providing quality customer service, consultative insight and cost-effective solutions.
Originating in 1992, the company facilitates in excess of $1 billion in payments annually, partnering with more than 60,000 hotels and 200,000 travel booking providers in more than 160 countries around the globe. In addition to its headquarters in Dallas, Onyx CenterSource has regional hubs in Tønsberg, Norway; Seville, Spain; and Manila, Philippines.