Reading Time:
4
minutes
When the hospitality industry speaks about payment innovation, much of the emphasis is put on guest payment experience in the hospitality space. With more and more guests demanding ease of payment for trips and hotel stays, it's no wonder that keeping up with payment demand sees such enthusiastic discussion.But by concentrating on guest payments, we tend to overlook hospitality B2B payment.
Third-party B2B payments are a part of everyday life for hotel and travel agency finance and accounting teams, and while the industry has grown leaps and bounds in the way of guest payment, we can often stand still when it comes to vendor and commission payment in the hospitality space.
While blockchain B2B hospitality payments may someday come to fruition, there is one key payment option that is burgeoning within the third-party payments space that deserve our attention and enthusiasm.
Let's review a few of the ways that third-party payments are traditionally made and look at one of the key emerging payment types that could change the way you make B2B hospitality payments forever.
Historical Hospitality B2B Payment Types
Check Payments
Checks have long been a standing form of payment for many hospitality third-party payments, including commissions, but in recent years, checks have all but been completely banned from some banking institutions.
While the U.S. is one of the most prominent users of checks in the world, use is still on the decline, with a 7.2% drop from 2015-2018. The outlook is even more dire for hotels and travel agents in the EU, where check payments have seen a 38% decline in the same 3-year period.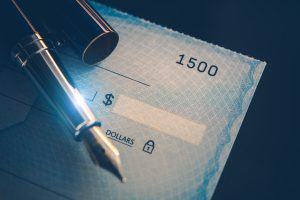 Europe has always managed to be at the top of payment trends, and it's usually just a matter of time before the rest of the globe follows suit. As more and more EU banks decline paper checks, hospitality payors will need to look for different, more innovative and secure forms of payment.
Wire Transfer Payments
Wire transfers were classically seen as the alternative to paper check payments for many international payment transactions between hotels and agencies, specifically for international commission payments. But wire transfers are not without their faults. They're prone to user error (i.e. providing the wrong account number) and payment delays that can have an adverse effect on agency cash flow.
Not to mention they are costly. The cost of a wire transfer can be up to $30 per transaction based on your banking institution. These fees apply to both the sender and the recipient, making it a costly and illogical solution for some of the smaller commission payments that travel agencies receive for short transient bookings.
Direct Deposit Payments
Direct deposits have been the first low-cost alternative to paper checks and wire transfers, and the ACH payment has seen a huge surge through the last decade in B2B payments. Even the U.S. government has moved away from paper checks to more economical electronic payment. Direct deposits hold a host of benefits to payees, including a more expedient process time, giving recipients their payments in a faster manner.
At Onyx CenterSource, direct deposit commission payments are one of the direct benefits of our Sure Pay agency commission process, in addition to payment consolidation and commission reporting. We've helped to streamline agency payment and lower banking costs for thousands of agents around the globe, and we're continuing to grow and expand our currency options for all services, with 11 currencies currently available for conversion to agencies.
Emerging Hospitality B2B Payment Innovation
Virtual Credit Card Payments (VCCs)
One of the latest innovations in hospitality B2B payment is the introduction of the virtual credit card. Traditionally used in hospitality by travel agencies to pay hotels for client stays, VCCs have proven beneficial to the hospitality payments ecosystem. The travel space is ready for virtual payment technology adoption, as the recent decline in travel due to the global pandemic has brought many virtual payment benefits to the forefront of discussion for hospitality professionals.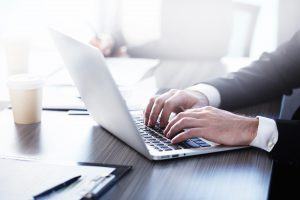 VCC payments have a host of benefits for B2B payors, including dynamic rules that can help eliminate payment overages and reduced potential for fraud from mailed check payments. VCCs give payment recipients more detailed transactional data at time of payment, so they can more easily reconcile their accounts receivables.
At Onyx, we've expanded the use of virtual credit cards to support our hotel CommPay clients in their goal to provide a seamless commission payment process to their agency partners by introducing virtual payment as an alternative for current agencies receiving paper checks, and we're actively strategizing additional ways to support our clients' services with virtual payment.
Interested in Virtual B2B Payment Options?
If you're a hotelier or travel agency that is interested in learning how virtual credit card payments can help support your commission payment process, contact Onyx today.